Want to Make Extra Money Now?
Neighbor: Neighbor is a website that lets you rent out your unused space to make extra money on autopilot through this link.

Survey Junkie

: Get paid up to $50 per survey through this link with one of the highest-paying survey sites on the web.
Albert: Want to get spotted a $150 for free? Albert will spot you $150 when you join. There's no catch. This bank account is legit and only takes two minutes to

sign up for an account

.
My other half has an affinity for Coconut so I figured I'd give baked coconut crusted chicken tenders a shot! The whole time I was preparing this meal I kept wondering if it would pass my their taste test!
It turned out great though! I think this would definitely please the most scrutinous of Coconut lovers.  It certainly pleased us!
While I've tried many variations of Coconut Crusted "things" the addition of Coconut Milk in this recipe was the missing ingredient.  Instead of eating something with a sweet, crunchy topping that only hits the tops of your taste buds, this one ties it all together and really brings it home to a sweet and savory bite.  I'll never cook anything Coconut Crusted without it again.
And the dipping sauce is a must.  It's definitely the crowning jewel!
Coconut Chicken with Sweet Chili Dipping Sauce
(The only changes I made were to reduce the ingredients for the two of us.  Recipe ingredients are posted as per the original.)
2 pounds boneless, skinless chicken breast
2 large eggs
1/4 cup coconut milk
1/2 cup all purpose flour
1 cup Panko bread crumbs
1 cup shredded coconut
1/2 teaspoon salt
1/2 cup vegetable oil, divided
1 cup sweet chili sauce
Once again I had a huge chicken breast so I filleted it horizontally to make two halves then sliced those halves in to fingers.
Coconut Chicken with Sweet Chili Dipping Sauce Instructions
 Start a skillet over medium high heat and add half the oil.
 In first bowl, combine flour and salt.
 In second bowl, combine eggs and coconut milk.  Whisk thoroughly to combine.
 In third bowl, combine Panko and coconut.  Stir together to combine.
 Dredge chicken pieces in flour mixture first, then egg/coconut milk and finally Panko and coconut.
 Drop a few Panko crumbs in oil to make sure it's ready.  If they sizzle rapidly the oil is hot enough.
 Carefully lay chicken pieces in oil and fry on each side about 3-4 minutes or until golden.  Drain on paper towels.  If you get too many crumbs in the bottom of your pan feel free to drain it and cook remaining chicken in a second batch.  This wasn't necessary for the single breast I used for the two of us.
 Serve with a small bowl of sweet chili sauce for dipping and Coconut Rice (coming soon.)
Coconut Chicken Strips Recipe Notes
Sometimes I wonder if we have any table manners at all.
No sooner did I take these pictures, bring the plate back in the house and set it on the counter, we were both dipping and munching away.  Looking at each other nodding our heads, smiling and humming, "Mmmmm, mmmmm, mmmm."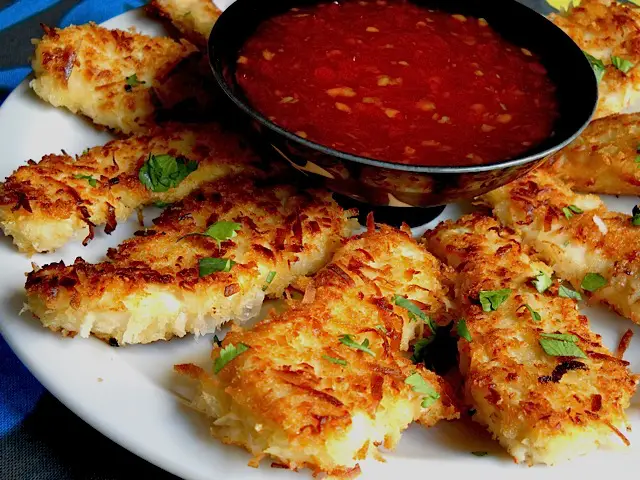 But Mr. Foodie and I are both "Kitchen People".
It's where we hang out.
It's where we talk.
It's where we solve all the world's problems.
At least in our minds.
And when there's something this tantalizing sitting on the counter we don't hesitate to dig in.
By the time we were finished munching on our Coconut Crusted Chicken everything that's wrong had been turned right again.
Make this, dig in, and solve all the world's problems in your kitchen tonight.