Want to Make Extra Money Now?
Neighbor: Neighbor is a website that lets you rent out your unused space to make extra money on autopilot through this link.

Survey Junkie

: Get paid up to $50 per survey through this link with one of the highest-paying survey sites on the web.
Albert: Want to get spotted a $150 for free? Albert will spot you $150 when you join. There's no catch. This bank account is legit and only takes two minutes to

sign up for an account

.
Looking for an honest PlateJoy review?
PlateJoy is a subscription-based meal service that provides consumers with healthy, delicious menus to cook at home… so they say. Is it worth it though?
I was looking for new recipes (good ones) in order to save time on cooking food. I discovered PlateJoy through a friend's recommendation and really enjoyed the service. That's why I wanted to do a review of PlateJoy's meal plan offerings to help inform others to decide if it is a good option or not for them.
Ready to dive in on this PlateJoy review? Let's look at some reasons why subscribing to PlateJoy can (and probably will) make your life better.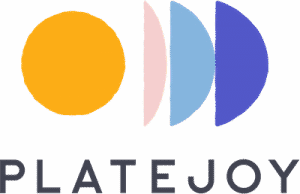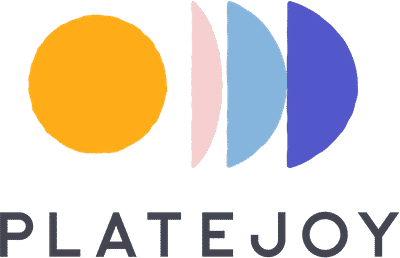 Pro-tip: Get $10 off any PlateJoy plan with code: BADFOODIE10
What is PlateJoy?
If you haven't heard of PlateJoy, they are a custom on-demand meal plans and grocery list service. I first started using them through this free trial offer which you can claim here. Check out the quick video review of PlateJoy below:
How PlateJoy works?
PlateJoy's website is innovative, consumer-friendly, and easy for new customers to navigate. You simply sign up for a free trial by inputting your email address and take a quick questionnaire about your eating habits and preferences. Once that's finished, they give you a list of recipes to fit your needs.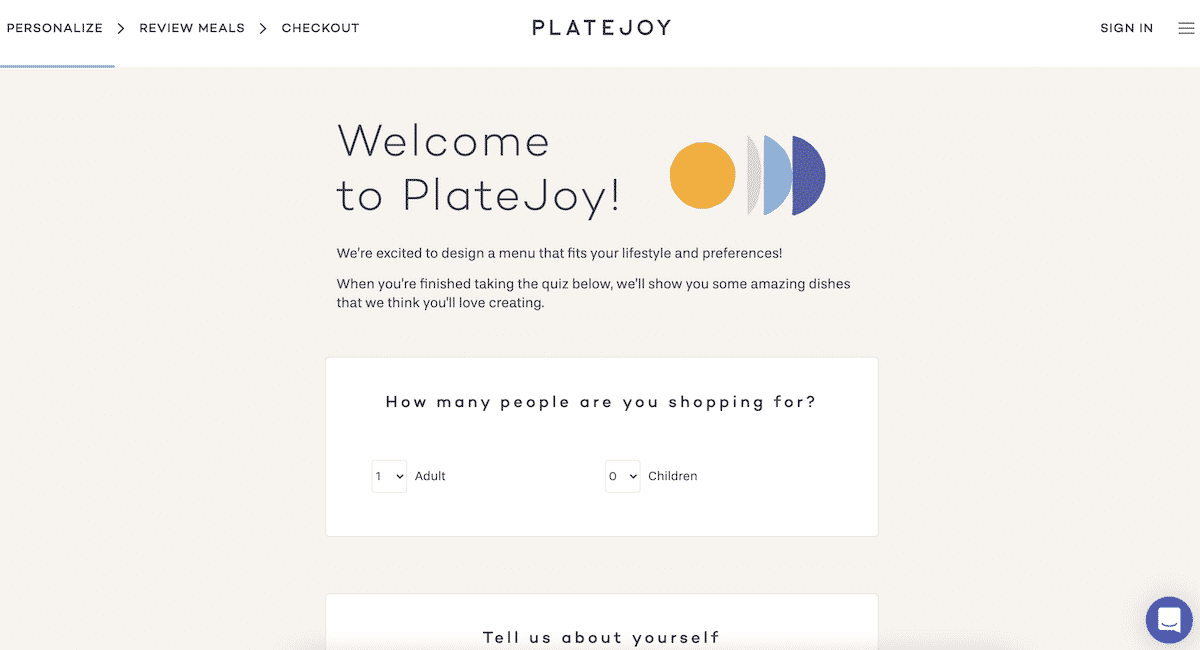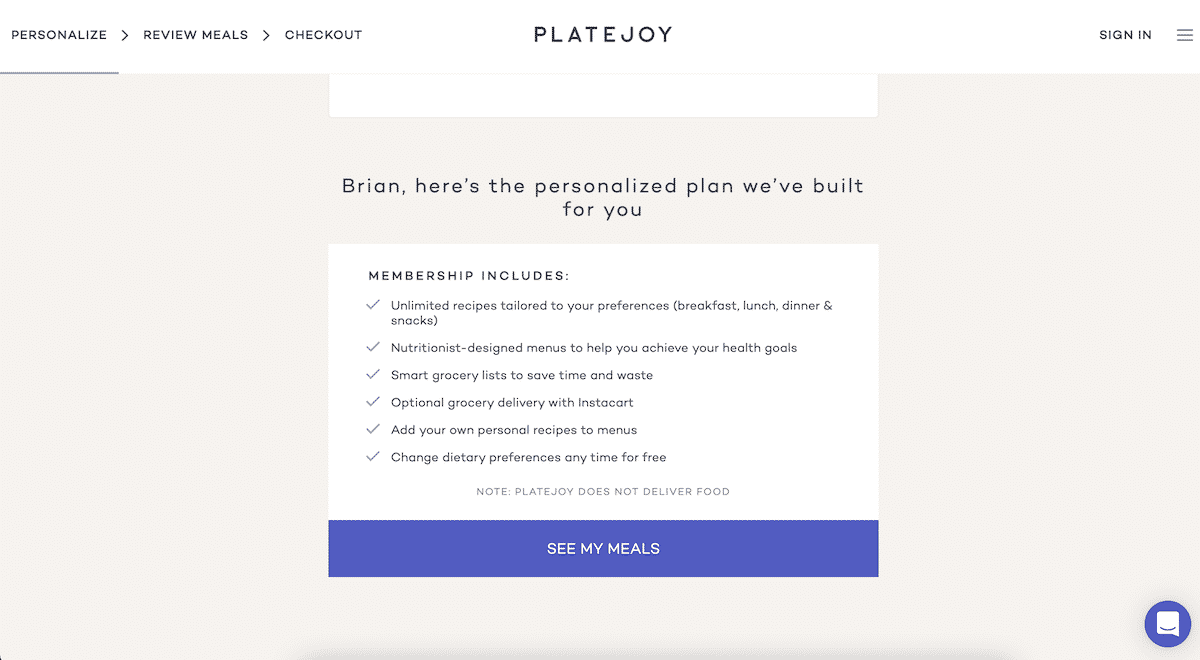 If you're satisfied, you can proceed to checkout, where you have 2 plan options: 6 months for $69.00, or 12 months for $99.00. You have 10 days with the trial before you pay, so if you aren't satisfied, you don't have to continue. I actually was really impressed with my options so I continued the plan.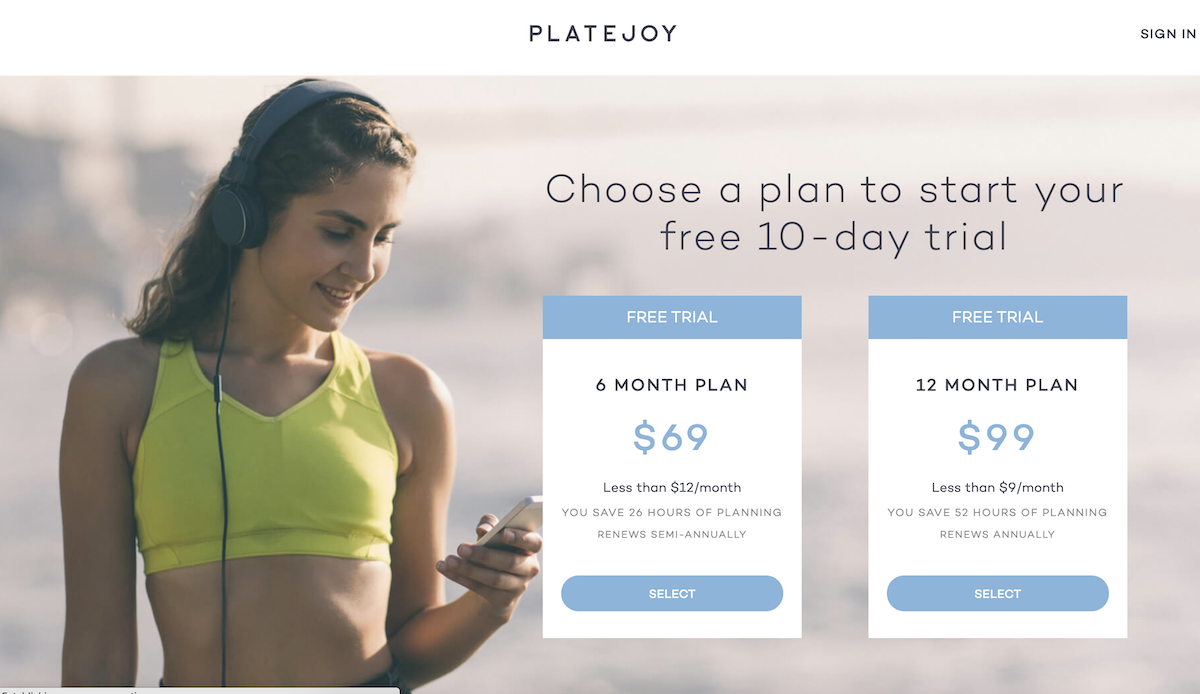 PlateJoy features
PlateJoy has recipes for those looking to lose weight, be more healthy, or just looking for recipes for restricted diets. These include vegan, dairy-free, keto, kosher, gluten-free, and even diets for pregnant or nursing women. Here is an example of how they cater to the kosher diet:
Why would you use PlateJoy?
So you know that even BadFoodie offers free recipes so you can cook for yourself and so do so many other food blogs.
The difference?
PlateJoy offers high-quality top of the line recipes that can save you time. By using them I saved time! PlateJoy can help with the amount of time you would searching online for half-decent recipes. They can give you some of the best recipes I've ever seen and PlateJoy guarantees you'll love what they provide. Not many recipes online offer that guarantee (not even us).
Remember, if you aren't satisfied, you don't have to continue with the subscription. What do you have to lose? Don't forget you can get started here with a free trial.
Grocery system
Another great aspect of PlateJoy is their grocery system. In order to reduce paper and plastic waste, they do not ship ingredients to the customer. Instead, they give you the option of sending the grocery list to your nearest grocery store through Instacart, which will then be delivered to you that same day. I love that service and have used them before to get food groceries delivered to me in under one hour (really). If you wanted to try getting groceries delivered to you, you can get started here with a free delivery coupon for Instacart.
Or, you can go shopping yourself with the ingredient list PlateJoy provides. This way, you know exactly what you're getting for your meals, and you know exactly where it came from. Essentially eliminating any uncertainty about how your ingredients are handled, and assuring they haven't been tampered with. A little peace of mind for you.
Portion control
You can stop worrying about how many cups of rice you'll need for your next meal. PlateJoy can help you with exactly how much you need to purchase for your meals, thanks to PlateJoy's portion control aspect.
When creating your menus, PlateJoy asks you what sized portions you prefer. They offer small, regular, and large (for 'very active' customers). This is great for anyone trying to control their diet, or for the average person that just likes to eat healthy, or for the very active customers. No matter your preference, PlateJoy's got you covered.
How much does PlateJoy cost?
Customers can buy the groceries themselves, or pay extra to order everything through the grocery-delivery service Instacart. Without the food itself, PlateJoy costs $14 a month or $69 for a six-month plan and $99 for a 12-month plan. Customers who qualify for insurance coverage pay nothing out of pocket.
Pros
Personalization. I enjoyed taking their advanced lifestyle quiz that learned my tastes, preferences & health goals.
Custom Meal Plans. I received custom meal plans with personalized recipes to simplify your life & delight my taste buds.
Easier Shopping Make shopping simple. With quick lists sent straight to my phone or optional grocery delivery through Instacart, it saved my family time and money.
Cons
Ingredients aren't included. The only downside to PlateJoy is that the ingredients are not included in the subscription. You will have to purchase all groceries separately.
Cost. Unfortunately, this can get costly, especially if you use Instacart, as they charge delivery fees on top of a small charge that reappears in your account a few days later.
PlateJoy coupons
PlateJoy is expanding its Instant Pot recipes and making sure 2021 is amazingly delicious! It's an exciting addition to PlateJoy's vast library of recipes and they're celebrating with a fantastic deal:
New PlateJoy promo for 2021
Get $10 off any PlateJoy plan with code:

BADFOODIE10
PlateJoy honest reviews
One of my readers loved it and here's her review:
I tried other meal/menu/food online tools, they all fell short. I tried menu planning on my own, incorporating new meals I spent hours looking for on Pinterest, and balancing my lack of creativity and skill with our health goals and all the things my husband and I hate to eat. (We're picky). Then I found PlateJoy! It saves me hours of planning, has taught me new recipes and cooking techniques, took the stress out of building my grocery list, introduced me to new flavor profiles, eliminated most of the food waste in our home, and helped me lose sixteen pounds (so far). We get to try new recipes whenever we want without having to go digging for an idea somewhere and PlateJoy makes certain we're not wasting money on purchasing more ingredients than we will need. We've even been able to balance the fact that my husband is trying to gain weight while I am losing weight. It may sound like a bit of an overstatement, but PlateJoy has become a necessary part of my day… multiple times a day. It saves time, money, stress, and helps with our health goals. I love it!!!

I absolutely hate meal planning and I always feel like I cook the same meals over and over again. PlateJoy has gotten me out of my comfort zone and making meals that I never would have made before! One day I was out running errands and decided to do an impromptu trip to the grocery store. In less than three minutes I planned meals for 4 days and had a grocery list ready to go. So easy! Oh…and after 2 weeks I've already lost 3 pounds even with no dietary restrictions because the meals are so healthy! PlateJoy is a life changer!!
A couple of weeks later and here she gave us an update about she is still raving about PlateJoy…
I REALLY wanted to update you on my experience… My husband lost 14lbs! And he's not only eating veggies, he now loves them! Oh, and his stomach doesn't hurt as much as it used to! We have collectively saved over $700 dollars since we've started using this program. I haven't had any processed food in a month! We both no longer derive any satisfaction from eating food we didn't prepare (which is a huge step for me because I spent years irrationally turned off to food whose preparation I witnessed or participated in). We're bonding in a wonderful way with our grocery shopping and cooking sessions. This is the most empowered I've felt in years.
PlateJoy review summary
What's not to love about PlateJoy? You can get personalized meal plans and fast recipes designed to fit your lifestyle. PlateJoy can help with the amount of time you would searching online for half-decent recipes. They can give you some of the best recipes I've ever seen and PlateJoy guarantees you'll love what they provide. Not many recipes online offer that guarantee. Remember, if you aren't satisfied, you don't have to continue with the subscription. What do you have to lose?
So if you want to make a change in your life, whether it's to save time, eat healthier, shop easier, or gain more control of your portions, give PlateJoy a try. You might be surprised that eating healthy, all day every day, is very easy and rewarding. PlateJoy guarantees you'll be satisfied!
What's sure to be in even more kitchens after the holidays? Instant Pots! This handy appliance has been a huge hit the past year and since PlateJoy is all about making eating easier and yummy, it was a no-brainer to jump on the craze.
Like food delivery services like PlateJoy? You should also check out Purple Carrot that offers delicious, plant-based meal options. Their portions are generous, and the recipes are easy to follow and you can learn more in my recent Purple Carrot review.